Set, Exhaust Chamber, Side By Side Type, Stainless Steel, RGV250 VJ23
Constructed in stainless steel, TYGA Performance combine modern technology and traditional techniques to bring you the best in two stroke chamber design. With the help of advance computer software, and extensive dyno and track testing, we are able to design the optimum chambers for your model motorcycle. Chamber sections are laser cut but this is where the automation ends. All chambers are hand rolled and welded by expert craftsmen to give the level of perfection that you'd expect when purchasing a TYGA Performance exhaust system. By selecting stainless steel for longevity and beauty, TYGA systems offer unbeatable value and are available in the following configuration.
Side by side (left and right exiting) stainless steel chambers, EXCS-0020
Included in the kit, for no extra cost, is a specially designed, dyno tested air box snorkel that is a direct replacement for the VJ23 standard snorkel offering improved air flow for increased power. See product TPER-0081 for details.* Available in Black/Red and All Black please put in comment box in check out what type you want.
Tyga Performance RGV250 VJ23 exhausts are supplied with a double 'O' ring manifold for superior sealing. In addition, the 'O' rings are made from Viton which are resistant to automotive fluids and better able to withstand higher temperatures.
Below is a graph showing the power output of an RGV250 VJ23. This test was conducted in house, and compares the TYGA Performance EXCS-0020 stainless steel system with Hi-Flo Snorkel, to an all stock Suzuki system.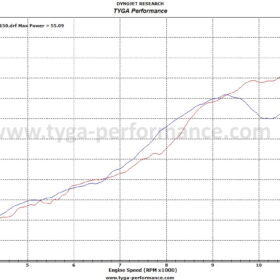 However, This is just a taster for what the VJ23 can really do with the full TPER-0023 Power Up Kit installed. See the graph below compared to the stock bike: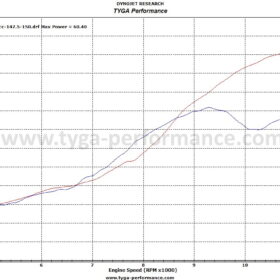 This product EXCS-0020 is made from stainless steel and has one chamber exiting left and one chamber exiting on the right.
Parts included with this product:
1x left side chamber, side by side (left exiting) stainless steel
1x right side chamber, side by side (right exiting) stainless steel
2x silencer single clamps and mounting bolts, washers and nuts
2x manifolds
4x manifold 'O' rings
2x mounting flanges
4x mounting springs
1x Replacement Exhaust Stud.*
*Note: It is necessary to change the left side exhaust manifold mounting stud on the right hand cylinder for additional clearance on the chamber body. This replacement stud (90035-KV3-950) is included in the set and must be fitted as shown in the picture.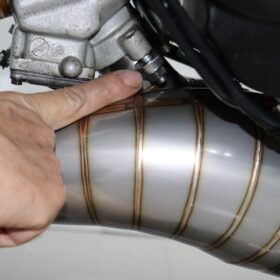 Not included with this product are the silencers.
Important! To complete your Tyga exhaust system remember to order 2 silencers with every chamber set.
NOTE: We highly recommend considering the following products when installing EXCS-0020
1)It is important to note that the TYGA exhaust system will interfere with the standard VJ23 lower rear cowling if no changes are made to the stock factory Suzuki bodywork. We couldn't bring ourselves to compromise the chambers to fit the bodywork, so we remodeled the bodywork to fit the pipes and the lower cowling BPFL-7446 or BPCL-7446 will allow for fitment of chambers and stock bodywork without any compromise, cutting or interference. This product can be purchased separately.
2)The silencers mount to the standard passenger peg hangers, just like the original pipes. However, we also recommend installation of the TYGA Performance carbon exhaust stays (TYLY-0245L & TYLY-0245R) which can be substituted for the passenger peg hangers to support the silencers if you don't intend to retain the passenger carrying capability.
3)For optimum performance results when using the VJ23 TYGA exhaust system, see our Power Up kit TPER-0082 as well as a Zeeltronic PDCI-VJ23 ignition unit and VHM heads, it also includes 1) and 2) above. Please read more under Power UP Kit TPER-0082