TYGA GP-T Honda NSR300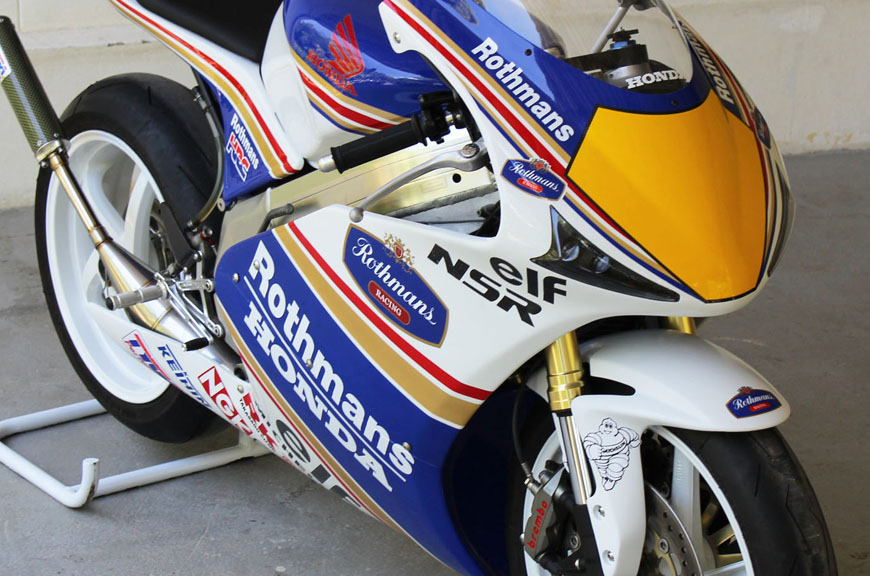 06/16/2015 @ 6:02 pm, by Jensen Beeler (courtesy of 'Aspalt and Rubber' magazine)
The Honda NSR250R is a special machine. When the 249cc, two-stroke, 90° v-twin GP bike with lights first hit the streets of Japan, it cost roughly $7,500 in hard-earned American dollars — a tidy sum back then, especially for a 300 lbs machine that made 40hp stock.
A coveted item for motorcycle collectors and discerning track riders a like, you can pick one up for over $10,000, the limited-production road-going version wasn't terribly different from the 250GP World Championship bikes that factory teams were racing. A topical reminder, if we do say so ourselves…
So how do you improve upon such a great machine? Ask the folks at TYGA Performance, who have been tinkering with NSR250R sport bikes since they opened in 2000. All that effort and expertise has culminated in the ultimate NSR250R, an M28, which will almost make you swear-off large-displacement four-strokes for the rest of your life.
Celebrating 25 years of MC28 Rothmans SP bikes, the guys at TYGA wanted to imagine what a Honda NSR250R would be like if they were still available, made with more modern technology and parts. A timely thought, as in 2015 we see the resurgence of small-isplacement machines on the motorcycle landscape. The downside of that of course is that the 250cc/300cc machines have been budget-spec street bikes, which may be good for new motorcyclists, but are only a halfway-measure for long-time riders who are looking for small, but fast, track weapons. "If there is a market for this type of bike is debatable, and I am not sure there is but in the car world, there are plenty of people who like smaller lighter cars such as the Lotus," explained Paul Pearmain, CEO of TYGA Performance. "It is good to see the re-emergence of the 250/300 class but frustrating that the only models offered are budget ones and the specification well below that which was offered in 1994. I guess you could say, we sort of wanted to embarrass the manufacturers such as Honda who pass off their modern lightweight bikes as sports bikes. They have their merits but they don't compare to the best of the bunch 20 years ago!" For the spec-sheet racers, the TYGA-spec NSR250R makes a screaming 75hp (almost double the stock figure), thanks to a 300cc big-bore kit, with some additional porting.
Additionally, all the weight-saving pieces have brought the ready-to-go with fuel wet weight to a tune of 115kg (253 lbs).
Technical Specifications of the 1994 Honda NSR250R MC28 by TYGA Performance:
Engine: NSR250 engine modified to 300 CC with TYGA Performance big bore kit with additional porting Wiseco Pistons VHM heads Dry clutch with upgraded springs and plates Blanked off two stroke injector, pre-mix 30/1 Lightened flywheel
Transmission: HRC close ratio gearbox RK Chain TYGA Performance rear sprocket
Exhaust: Tyga Performance stainless steel with carbon/Kevlar silencers. Exhaust manifolds specially machined to match exhaust ports
Ignition: HRC key card 030 race unleaded type HRC RS250 NF5 spark plugs and caps
Carburretion: HRC factory NSR250 Keihin 38 mm test carburetors HRC RS250 NF5 inlet manifolds with Aktive carbon reeds HRC RS250 quick action throttle TYGA Performance custom carbon air-box
Cooling: HRC NSR250 F3 triple core radiator HRC NSR250 F3 water pump cover
Frame: Frame is stock TYGA Performance lightweight sub-frame HRC Swing arm HRC style rear hub by NSR-World Tyga Performance rear sets Yamaha TZR250 3MA handlebars TYGA Performance lightweight upper stay and meter stay Ohlins Steering damper
Suspension: Front end: CBR600RR forks re-sprung and held in bespoke TYGA Triples
Rear End: Ohlins NSR250 rear shock S46HR1C1L Brakes
Front: Brembo M4 cast monoblock CBR1000RR radial type master cylinder Honda RC45 discs HEL brake lines
Rear: Brembo P2 cast caliper with TYGA Performance mounting bracket HEL brake line (hidden in swing arm)
Wheels Front: Honda HRC RS250 Magnesium (17 X3.5)
Rear: Marchesini (17 X 5.5)
Tires Front: Pirelli Diablo Super Corsa 120/70 ZR17
Rear: Pirelli Diablo Super Corsa 160/60/ZR17 Bodywork TYGA Performance made from lightweight carbon/Kevlar TYGA Performance custom LED lighting front and rear Other Lithium battery TYGA Performance carbon clutch cover TYGA Performance carbon generator cover TYGA Performance swing arm cover TYGA Performance CNC fuel filler cap TYGA Performance CNC top triple nut TYGA Performance pre-load adjusters TYGA Performance lightweight axle spacers HRC Rear Brake reservoir HRC radiator overflow bottle TYGA Performance carbon fairing mounts with GP quick release fasteners