HONDA NSR250V by TYGA Performance
Text and photos by Paul Pearmain, © TYGA-Performance 1997 was a particularly good year for Honda in the world of motorcycle racing. They dominated in GP racing, winning the 500cc crown again, and regained the 250cc championship too. Not only that, they were champs in the WSB, winners at Suzuka 8HRs, TT Formula1, Lightweight TT,  […]
Text and photos by Paul Pearmain, © TYGA-Performance
1997 was a particularly good year for Honda in the world of motorcycle racing. They dominated in GP racing, winning the 500cc crown again, and regained the 250cc championship too. Not only that, they were champs in the WSB, winners at Suzuka 8HRs, TT Formula1, Lightweight TT,  the NW200 and the 250 motocross. You'd think their road bike line up would reflect this racing success but sadly this was not the case. The range was somewhat lackluster, and perhaps most telling, it was the first time in 15 years that Honda no longer listed a 250 sports bike in their catalog. As we all know, Honda were never very enthusiastic about the stink wheel despite building some of the best two strokes both on and off the track. They were instrumental in killing it off in fact.
Despite Honda's dislike for the two stroke, other makes continued with developing and bringing out new two stroke models in the late 1990s. Suzuki had the VJ23 and Aprilia the RS-250, the latter would even be given an upgrade in 1998 and continue into this millennium. So I think it is fun to muse; what if Honda had chosen to compete with Suzuki and Aprilia? What would the successor to or even the facelift of the MC28 look like? Of course it is impossible to know for sure but we at TYGA wondered what if HRC had made a mini version of their NSR500V GP; an NSR250V for production racing and homologated for the street? It seems logical to us and here is our take.
The Honda NSR500V was introduced as an affordable racebike for privateer teams in the premier class. The V twin had the advantage of less weight over the fours and proved very successful in the World Championship. HRC had their own factory development versions of the 500V with Okada and Ito riding them in 1996. In 1997 was the turn of another Japanese talent, Takuma Aoki, and he finished the season in a creditable 5th place with his V4 Repsol team mates finishing in 1st, 2nd and 4th and another Honda V4, his brother in 3rd place.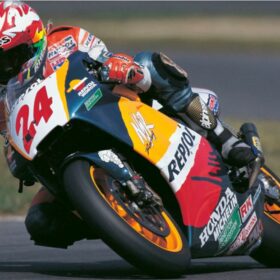 Other privateer riders finishing in the points that year on the 500V were Alex Barros and Loris Regiani in creditable 9th and 14th places respectively. Like I mention above, it seems to us, that there was a golden opportunity for Honda to capitalize commercially with this successful and lightweight motorcycle and Honda could have ordered HRC to make a race replica in the spirit of the RC30 perhaps. The MC28 would make a perfect starting point for such a 250V project, being a V twin with a single sided swing arm with the open side on the right just like the 500V. All it really needed was HRC to give it a restyling, upgraded forks and suspension and an exhaust system and the road bike would take on the persona and attitude of the 500V. Unfortunately, it was not to be and in the absence of Honda making such a machine, 22 years later, we at TYGA decided to do so ourselves.
The first challenge was to find a suitable MC28 to modify. Nowadays, MC28s the World over are in short supply and very expensive. Finding one in Thailand is nigh on impossible. However, we did have a registered MC21 and some MC28 parts, so we decided to use the MC21 as the starting point.
Of course, it is never as simple as it seems when you first start these things, and the first issue was the pro arm swing arm was in poor shape. Our particular one had been covered in filler and then sanded smooth to be used to make the mold for our MC28 swing arm protector. At that time, we considered it pretty much sacrificial but now it is a precious rare commodity. So, with no other pro arm available and with the help of our painter K Pong, he was able to paint it in a flat silver to give an almost perfect factory finish. The hub, on the other hand, was already sorted and was one we had got from GT Performance a few years ago for such a project. GT had given it the large HRC wheel nut conversion which is the same style as the 500V! Frankly, it is strange why Honda did not use this on a production bike. Other makes did such as Ducati, Triumph and MV Augusta.
Next thing was mounting the swing arm to the MC28 frame. The MC21 and MC28 frames are very similar and most parts are interchangeable but not the swing arm pivot shaft which uses different diameters and different bush lengths. With a lot of measuring, comparing, offering up etc, we came to a solution which is simple and reversible. By careful selection of various bushes, spacers and the MC21 pivot shaft, it actually only needs one custom made spacer and no cutting to get it to work and we will be offering this spacer and instructions to anyone wishing to carry out any similar conversion.