Power Up Kit, RGV250 VJ23
Release the full potential of your RGV250 VJ23 with this full option Power Up Kit by TYGA Performance.
Everything that you need is included in this set to release the strangle hold on your VJ23, and lift the power from a lethargic 40hp up to over 60hp!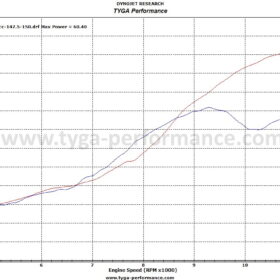 Full documentation and details of each step can be found HERE
Also, please check the descriptions for EXCS-0020 for other important fitting details.
---
The VHM heads can be ordered with different inserts. In the case of the full Power Up Kit we recommend 12.0cc for use with unleaded pump gasoline. So please be sure to select the correct VHM inserts and  you can fill these in comment box at check out. Note that the 11.4cc insert is the default option but this volume is not advised when using the complete power up kit.
---
The Zeeltronic PDCI-VJ23 is delivered with a map ready to plug and play. This standard map works fine, however, for the full Power Up Kit we have an optimised map, which will be sent to you by email upon purchasing the Power Up Kit.
---
Not included with this product are the silencers.
Important! To complete your Tyga exhaust system remember to order 2 silencers of your choice with every chamber set.
---
Please note that the VHM and Zeeltronic products will be sent direct from the manufacturers, separate from other TYGA products. The prices quoted includes shipping. If you need urgent delivery then we can offer other methods but the price will be affected and should be discussed prior to payment.
This product contains the following items:
4x     EXSG-0001 Spring, Exhaust, Two Stroke
4x     EXOR-0042 O Ring, Aprilia/RGV250 Exhaust Manifold (single)
2x     EXCL-0006 Clamp, Single, 61mm, Offset
2x     EXMC-0007 Clamp, Manifold, RGV250/Aprilia RS250
2x     EXMN-0007 Collar, Manifold, RGV250/Aprilia RS250
1x     EXCB-0020L Exhaust Chamber, Left, Side By Side Type, Stainless Steel, RGV250 VJ23
1x     EXCB-0020R Exhaust Chamber, Right, Side By Side Type, Stainless Steel, RGV250 VJ23
1x    TPER-0081    Hi Flow Snorkel, Air Box, RGV250 VJ23 (Available in Black/Red and All Black please fill in comment box at check out)
1x    BPFL-7446   Lower, Rear Cowl, Special, RGV250 VJ23
1x    TYLY-0245L    Stay, Carbon, Silencer, Left, RGV250 VJ23
1x    TYLY-0245R    Stay, Carbon, Silencer, Right, RGV250 VJ23
1x    90035-KV3-950    Stud, Exhaust #2 8×22, MC28
1x    ZEEL-VJ23    Zeeltronic PDCI-VJ23 Ignition Unit
1x    VHM-RGV250VJ23    VHM Cylinder Head Set RGV250 VJ23